Welcome to the Early Years Foundation Stage (EYFS) at Gwladys Street Community Primary & Nursery School!
This page you can read discover the curriculum covered in the Early Years Foundation Stage at Gwladys Street Community Primary and Nursery School.  We also plan spontaneously, following children's interests in depth.
For a more detailed and up to date view of what we have been learning, please visit our class pages.
Please click on and explore our long term plans by clicking the links below.
EYFS Values and Vision 2022-2023
Curriculum Intent, Impact and Implementation
Long Term planning FS1 NURSERY 2022-2023
Long Term planning FS2 RECEPTION 2022-2023
Curriculum:
At Gwladys Street Nursery and Primary School we recognise that children learn and develop in different ways and at different rates. Our curriculum is responsive and holistic and we value all areas of learning. We understand the importance of Prime areas being time specific and personal, social and emotional development, communication and language and physical development are highly regarded and supported with a heavy emphasis upon these areas of learning particularly within Autumn Term. Each area of learning and development is implemented through planned, purposeful play, and through a mix of adult directed, adult-led and child-initiated activities. Practitioners respond to each child's emerging needs and interests, guiding their development through warm, positive interactions. As children grow older, and as their development allows, the balance gradually shifts towards more adult directed activities to help children prepare for more formal learning, ready for year 1.
At Gwladys Street Community Primary & Nursery School, our Early Years bases are spread across the Foundation Stage One building (Nursery) and Foundation Stage Two building (Reception classes). Within each base, we are fortunate enough to have large indoor classrooms with inviting learning areas. The classrooms are set up with different learning areas that complement and enhance the EYFS. This includes a writing area, a maths area and a role play/creative area and many more alongside the exciting and stimulating outdoor areas.
Each base has access to outdoor learning with areas such as a garden area, climbing frame, balance beams, art area, outdoor dens, writing areas, maths areas, role play areas (including a mud kitchen) and many more!  Children will have the maximum opportunities to play and learn outdoors
Our team plan carefully considering children's individual interests which evolve and develop over a term. We have themes and high quality texts which we introduce to provoke new ideas, thoughts and learning. Vocabulary is planned for and vocabulary concepts are taught specifically throughout the school week. Through working as a team with staff, children and families, we create an exciting ever changing curriculum where learning is fun and interesting!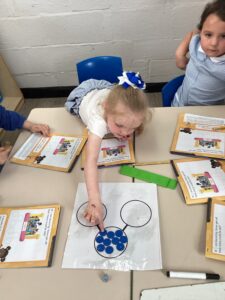 Early Years Documents:
Early Years Foundation Stage handbook 2023
Routines:
FS1 (Nursery)
Opening Time – 8:30 am
Lunch Time Collection – 11:30 am
Afternoon Session – 12:30 pm
Closing Time – 3:30 pm
At Gwladys Street Community Primary & Nursery School we offer 15 hours a week FREE child care for all 3 to 4 year olds.
We do offer additional hours. For more information regarding this, please speak to the school office.
FS2 (Reception)
Opening Time – 8:50 am
Closing Time – 3:30 pm
Useful Links for Parents / Carers:
PSED:
Helping children cope with change
Helping children with their behaviour
Communication and Language:
Universally Speaking: The ages and stages of children's communication development – from birth to 5 years
Phonics and Early reading:
Other:
Helping Your Child Learn Science
Making their mark – children's early writing
Early Years Pupil Premium:
What is the Pupil Premium?
Pupil Premium is a grant given to schools by the Government to support the most vulnerable pupils to achieve, reach their full potential and be successful. The amount of funding received is determined by the number of pupils who are eligible for free school meals. The funding is to support all FSM pupils, LAC and Armed forces children.
Below indicates how the Pupil Premium funding will be spent for this financial year and the impact of previous funding.
Gwladys Street tracks Pupil Premium children's progress carefully and draws up provision maps to ensure all Pupil Premium children receive support. Mr Moore is the Pupil Premium Champion for the school.
What could your child's school receive?
EARLY YEARS PUPIL PREMIUM: PRE-SCHOOL SUPPORT FUNDING
Early Years Pupil Premium (EYPP) is additional funding for early years pre-school settings to improve the education they provide for disadvantaged 3- and 4 year-olds including, but not restricted to, those adopted from care.
The funding goes directly to registered early years providers (including pre-schools, nurseries and childminders) that offer children the free early education entitlement.
WHAT IT PAYS FOR?
Funding equates to £302 per child per year (pro-rata for children who access less than the full free early years entitlement) and early years providers can choose how they use the money to improve the quality of provision they offer. For instance, they could:
Pool the Early Years Pupil Premium to purchase shared services such as an Early Years Graduate or Speech and Language Therapist
Provide additional training for staff
Enhance speech and language development initiatives
Funding for financial year 2022 to 2023
In the 2022 to 2023 financial year, schools will receive the following funding for each pupil registered as eligible for free school meals (FSM) at any point in the last 6 years:
£1,345 for pupils in reception to year 6
£955 for pupils in year 7 to year 11
Schools will receive £1,345 for any pupil:
identified in the January 2021 school census or the alternative provision census as having left local authority care as a result of:

adoption
a special guardianship order
a child arrangements order (previously known as a residence order)

who has been in local authority care for 1 day or more
recorded as both eligible for FSM in the last 6 years and as being looked after (or as having left local authority care)
Service Children – £310
Pupils in year groups reception to year 11 recorded as Ever 6 service child or in receipt of a child pension from the Ministry of Defence
This money will be used to support your child's education.  You can see how we are planning to spend the money on our Pupil Premium Strategy Report.
Are you entitled?
Please follow the link below to check if you are eligible to claim Free School Meals for your child or speak to our Office Staff who will provide you with a form and they will check for you.
https://liverpool.gov.uk/schools-and-learning/grants-and-funding/free-school-meals/income-related-free-school-meals/